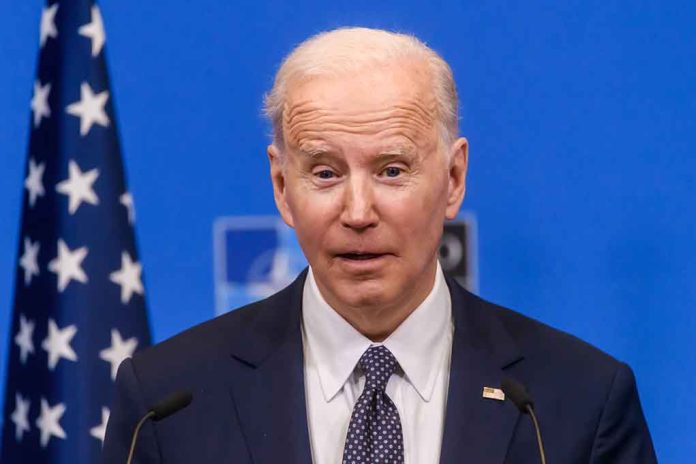 Biden Hits Rock Bottom
(IntegrityMag.com) – When President Joe Biden first entered the Oval Office, a majority of Americans appeared to be optimistic about what the future held. Now, things are very different after a year and a half of the Biden presidency. His performance in the polls has been dismal for some time, and the latest survey indicates things are only getting worse as far as the American electorate is concerned.
Biden's Latest Poll Is the Worst in a While
A Reuters/Ipsos poll completed on Tuesday, June 14, placed Biden's approval rating at just 39%, marking the third consecutive week in which the rating fell. The survey found that 56% of respondents, who were from all around the United States, disapprove of the job President Biden is doing.
Recently, more Democrats have been expressing negative sentiments about Biden, with 74% approving of him now compared to 85% in August. Republican support for the president has been relatively stagnant by comparison, remaining at around 11% in the same poll.
Polling results like these could have many Democratic lawmakers worried ahead of the midterm elections later this year. Early predictions suggest a very strong Republican performance that could flip both chambers of Congress back to Republican control.
Why Are Americans So Negative About President Biden?
Joe Biden's first major dip in polling performance came last August, following the botched military withdrawal from Afghanistan.
After a US retreat from the war-torn nation that many experts believed was too hasty, the Taliban quickly overran Afghanistan's domestic military and police forces, regaining complete control of the nation in weeks. In the worst episode of the withdrawal from an American point of view, a suicide bomb attack on Kabul's international airport killed 13 members of the US military as well as over 150 Afghan nationals.
Biden's average approval ratings haven't broken above 45% since last October, and there have been a series of national crises since then. First came the supply-chain crisis, which left Americans short of many crucial goods and services in the wake of the COVID-19 pandemic. From that problem arose another similar catastrophe: inflation.
Prices have been consistently skyrocketing for months now. Essentials like gas and groceries have been the hardest-hit commodities.
Along with the difficulties posed by rising prices come concerns about economic recession. While our economy was growing at a record rate during the pandemic, that all appears to have changed now, with the stock market posting major losses over the last few weeks. Many Americans are gravely worried that they could lose their jobs or suffer pay cuts when basic needs are more expensive to meet than ever before.
Does Biden have any hope of turning things around in time for the next presidential election?
Copyright 2022, IntegrityMag.com