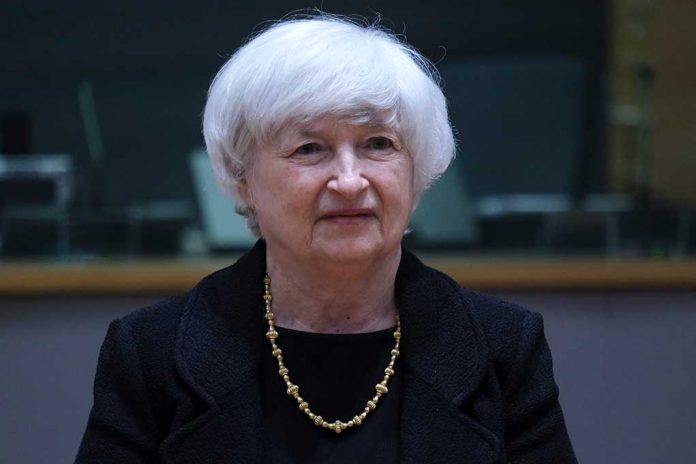 (IntegrityMag.com) – China's record on human rights is, by now, widely known to be subpar. The Chinese Communist Party (CCP) has presided over some of the worst humanitarian abuses currently ongoing, most notably the oppression of the Uyghur people. But there's also the CCP's less-than-forthcoming response to the COVID-19 pandemic. China seemed eager to obscure the truth for as long as possible.
This behavior was noted by none other than Treasury Secretary Janet Yellen recently. During a Brussels meeting with leaders from European Union countries, Yellen remarked that the United States and the EU needed to form a "unified front" against China. She took aim, in particular, at the CCP's "unfair economic practices… and human rights abuse."
Now, however, China is firing back at the Treasury Secretary. On Tuesday, July 13, the country's Foreign Ministry spokesperson Zhao Lijian released a statement saying the CCP "deplores and rejects" Yellen's remarks. Zhao added that China has always supported the World Trade Organization's multilateral trading framework, rejecting the idea that it unfairly limited competition from other nations.
China knocks Yellen over call for "unified front" between US, Europe https://t.co/1hi3VoXp3w pic.twitter.com/Ei85yy5LXb

— The Hill (@thehill) July 13, 2021
Zhao also criticized the United States, claiming our leaders needed to solve our "own human rights problems" before pointing the finger at China for the alleged oppression of Uyghurs or other humanitarian issues.
However, China's retorts sound hollow in light of growing global suspicions over Chinese activity. Sooner or later, the CCP will have to deal with the consequences of its highly questionable agenda.
Copyright 2021, IntegrityMag.com