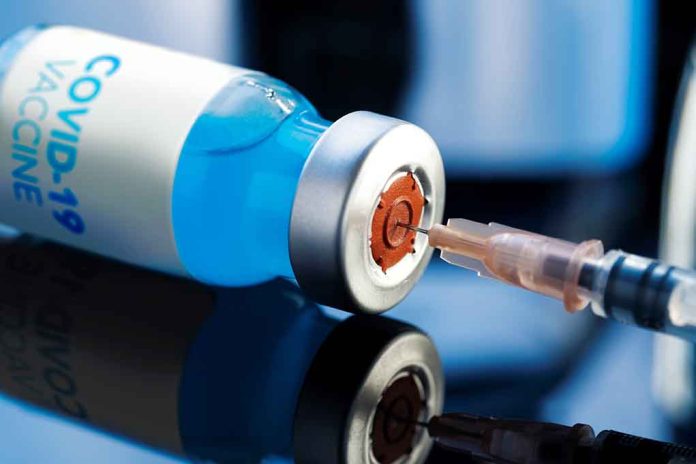 (IntegrityMag.com) – Vaccines and vaccination mandates have been the subject of fierce controversy over the last year or so. While the issue isn't as visible in news headlines as it once was, it hasn't gone away. In the most recent development, officials from the Food and Drug Administration (FDA) suggest a new COVID-19 vaccine model resembling annual influenza immunizations, according to a report from the Epoch Times.
The proposed system would reportedly involve changes to the composition of COVID-19 vaccines from season to season. The FDA has reportedly said updates to vaccines would target current and future variants of the virus, similar to how the influenza vaccines update each year. In the future, seasonal flu shots might even combine with COVID-19 boosters.
Moderna announced that it is in the process of developing a new vaccine that combines a booster dose of its COVID-19 vaccine with a seasonal flu vaccine.

Following the announcement, Moderna's shares jumped more than 5%. https://t.co/8XBjnYkzAY

— Axios (@axios) September 9, 2021
Currently, experts use data to predict what flu variants will dominate in a given season and produce the year's vaccine accordingly.
While the influenza vaccine model may direct the approach to COVID-19 vaccine rollout to an extent, experts say COVID-19 retains distinctive features requiring a different approach. For example, we don't yet know what kind of seasonal pattern the coronavirus will adopt over the coming years. Additionally, scientists are still building clinical trial data for COVID-19 vaccines compared with decades of data available for flu shots, posing some unforeseen challenges.
It might be uncertain whether the flu-shot model would work for future COVID-19 vaccination programs, but health organizations will likely use some elements of the approach.
Copyright 2022, IntegrityMag.com