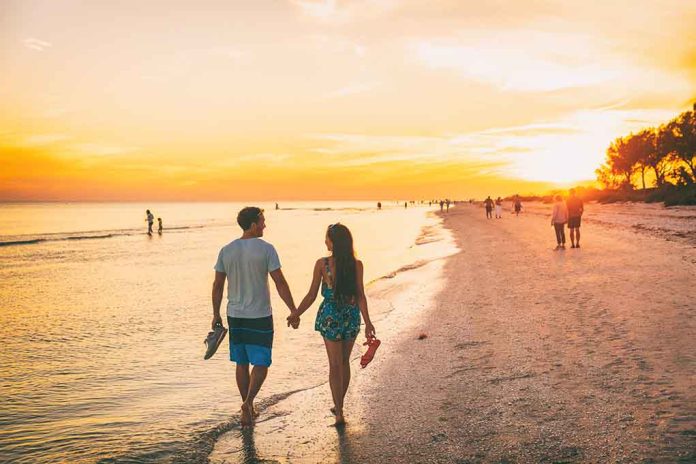 (IntegrityMag.com) – Florida Republican Governor Ron DeSantis has never been shy about his position on mask and vaccination mandates for the citizens of his state; he's firmly against them. While his stance has put him at odds with Democratic leaders in Washington, D.C., a huge number of Floridians have celebrated him for it. DeSantis is sticking to his guns in the wake of fresh mandate announcements elsewhere in the country.
On Tuesday, April 12, Ron DeSantis addressed journalists in a press conference. One reporter asked the celebrated conservative leader how he viewed the standoff between himself and the White House on the subject of COVID-19 mandates. DeSantis replied by highlighting new restrictions in places like Philadelphia, Pennsylvania, which has just reimposed a mask mandate. The Florida governor insisted he would stay true to his long-standing philosophy and avoid imposing any such restrictions on Floridians.
DESANTIS: "Some people will say, 'Oh they're hypocrites.' Yeah they are, but that's not the issue. The issue is if they thought their policies really were necessary…they would be abiding by it. They're not abiding by it because they know it's all about politics and control." pic.twitter.com/4tsYpKMc5m

— Townhall.com (@townhallcom) April 12, 2022
Not only did DeSantis preserve the freedoms of his state's residents, but he also handled the pandemic itself more effectively than most other states. A new study from A Committee to Unleash Prosperity handed Florida an "A" for its overall pandemic response, while some more restrictive states (notably New York and California) received "F's."
Do you think Governor DeSantis has done a good job of responding to the pandemic on behalf of Floridians?
Copyright 2022, IntegrityMag.com