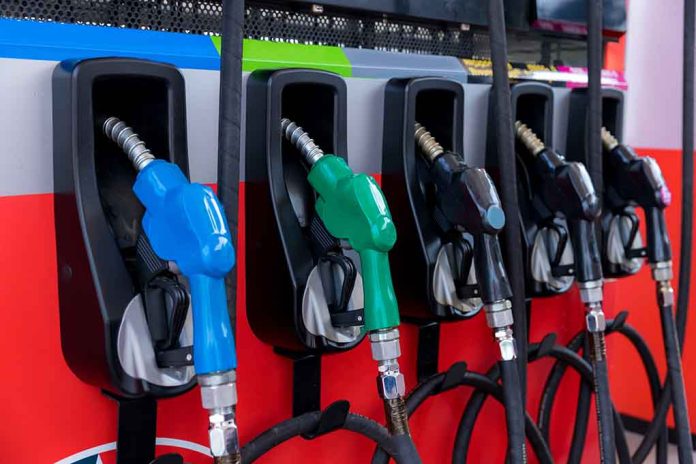 (IntegrityMag.com) – The inflation crisis isn't exactly new; prices have been spiraling upward for many months now. Analysts believe the problem may have started due to the massive amounts of cash that flooded into the economy during the COVID-19 pandemic and supply chain issues related to the virus. Yet, now that war has broken out in Europe, prices are rocketing even higher for one major commodity: gasoline.
Reports have emerged showing incredibly high gas prices in some areas of the United States. One gas station in Los Angeles, CA, reportedly advertised regular gas for $6.99 a gallon in recent days, while premium was going for $7.29 a gallon, according to the Western Journal.
While California is notoriously expensive when it comes to gasoline, similar stories are unfolding in other states. In New York, for example, the average price of a gallon of gas is around $4.207, just 10 cents shy of the state's record average price of $4.309. Other states, such as Massachusetts, are also recording unsustainable increases in the cost of fuel.
Massachusetts resident on high gas prices:

"Sick to my stomach—you think back probably two to three years ago, we were energy self-efficient. We didn't have to buy oil or gas, now things have gone just in the opposite direction…They're killing the working man." pic.twitter.com/yqbdeWwEAM

— RNC Research (@RNCResearch) March 7, 2022
The problem could get worse before it gets better. According to industry analysis, the situation in Russia could cause the national average to climb by another 50 cents per gallon.
So, what is President Joe Biden doing to address this problem? Because of its hardline stance on carbon emissions, the Biden administration is still unwilling to issue new permits to drill for American oil on federal lands.
Is it time something changed?
Copyright 2022, IntegrityMag.com