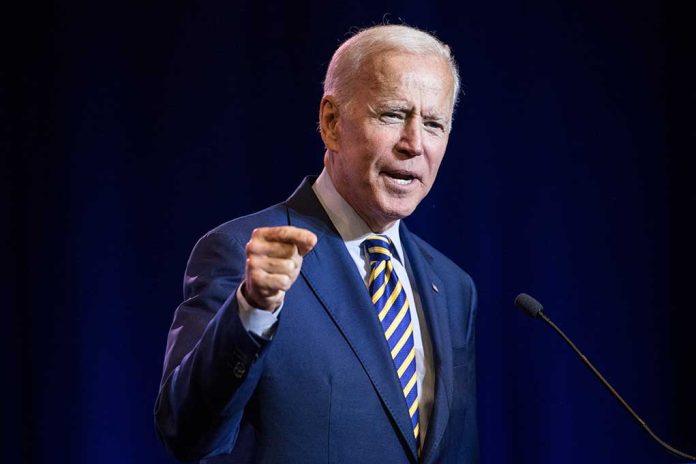 (IntegrityMag.com) – Last month, President Joe Biden announced that all businesses with more than 100 employees would either have to require their workers to vaccinate or test weekly for COVID-19. The announcement, along with the state-level mandates, outraged many people, and the problem is causing headaches for companies across the country. Reports have emerged that hospitals and other healthcare facilities have been firing large numbers of their workers over their refusal to get vaccinated.
The president appears unworried by this fallout. In the context of climbing vaccination rates, these terminations are only a minor setback, according to a speech he made last week.
"The Bigger Story"
On Thursday, October 7, Biden spoke at a construction site in Elk Grove, Illinois. He referred to "reports of mass firings" but said people needed to "look at the bigger story." He didn't elaborate directly on what he believed the "bigger story" was, but he appeared to be talking about rising vaccination rates. He used United Airlines as an example, relating that 99% of the company's workers are now vaccinated, up from 59% less than two months ago.
How Bad Is the Problem in Workplaces?
Still, reports of mass firings continue to pop up. The largest healthcare provider in the state of New York, Northwell Health, fired 1,400 of its employees earlier this month after they refused to obey the state's vaccine mandate. On the other side of the country, the Seattle Police Department is preparing to lay off hundreds of officers if they don't inoculate before October 18. At a time when healthcare and policing resources, in particular, are stretched, these reports only make Biden's position more difficult to defend.
What's Happening at the State Level?
Throughout the pandemic, states have been at odds with one another regarding COVID-19 containment measures. Conservative leaders, like Florida Gov. Ron DeSantis (R), have largely resisted masks and vaccine mandates, while Liberal states have been much quicker to embrace them.
Six states currently have "vaccination or termination" rules for workers in the healthcare sector, imposing deadlines for workers to receive inoculations or face losing their jobs. A further 13 have a "vaccination or testing" mandate similar to the system the Biden administration wants to introduce for companies with more than 100 employees.
On the other hand, a number of states have banned certain types of businesses from instituting vaccine mandates. In some, such as Montana and Arizona, there are exceptions to this rule for healthcare providers.
Copyright 2021, IntegrityMag.com