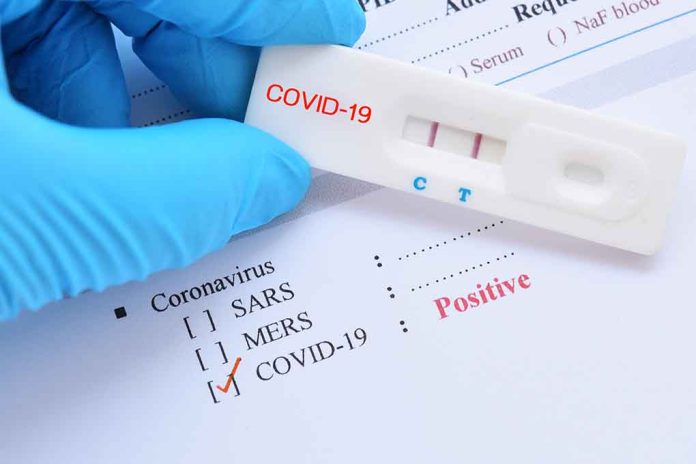 (IntegrityMag.com) – Since the beginning of the COVID-19 pandemic, there has been speculation about the degree of culpability China's regime should bear for it. Much centers around the lab leak theory, the idea that the virus originally came from the Wuhan Institute of Virology rather than human-animal transmission. However, there are also concerns about some of the coronavirus testing services coming out of the country.
On Monday, November 29, Los Angeles County Sheriff Alex Villanueva announced he would discontinue using Fulgent, an LA-based genetics firm, for mandatory COVID-19 testing in his department. Villanueva said he took this step over the company's potential links to China.
#BREAKING : Los Angeles Sheriff Alex Villanueva @LACoSheriff sends letter to LA Board of Supervisors on their withdrawal of using 'Fulgent' company to covid test their county sheriffs, citing serious FBI warnings to company links to the "Chinese Academy of Medical Sciences". 1/2 pic.twitter.com/2NNh1h9gvd

— Anthony Cabassa (@AnthonyCabassa_) November 30, 2021
According to the letter Sheriff Villanueva wrote to the Board of Supervisors, Fulgent has connections to China-based companies like Huawei Technology, BGI, and WuXi. In turn, these Chinese companies have links to the Chinese Academy of Medical Sciences and the People's Republic of China State Council, according to the sheriff. He claimed this arrangement might result in the Chinese Communist Party ending up with access to Americans' genetic data. Villanueva also criticized the failure of the vetting process to discover these links.
Should other government and law enforcement agencies across the US also be taking note of potential issues like this?
Copyright 2021, IntegrityMag.com