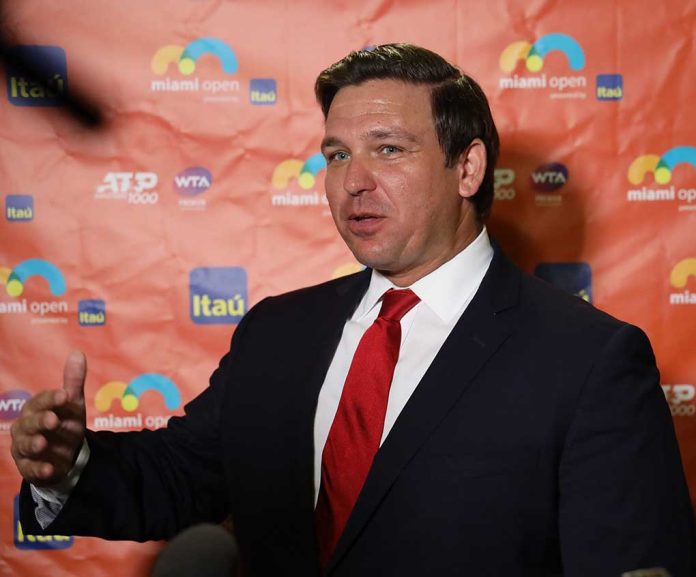 (IntegrityMag.com) – Florida Governor Ron DeSantis (R) has endeared himself to conservatives across the country since taking his state's gubernatorial seat. He has been unequivocal in his opposition to liberal policies like mask and vaccine mandates, pandemic-related business closures and critical race theory (CRT) instruction in schools. Fox News commentator Lara Trump recently praised DeSantis for his work on behalf of parents and kids regarding CRT.
Lara Trump Praises DeSantis' Efforts
On Thursday, December 16, Lara Trump sang the Florida governor's praises during the "Fox & Friends" program. She pointed out many parents were likely unaware of the content of their children's school curriculum prior to the COVID-19 pandemic and may have been shocked at the inclusion of things like CRT when they had to start educating their youngsters from home.
In the face of these concerns, Trump believes DeSantis has stepped up to the plate. The governor has fought back against Democratic efforts to promote CRT and stymied school boards in their endeavors to keep teaching the controversial hypothesis to children.
Where DeSantis Fits Into the 2024 Picture
DeSantis' leadership on issues like CRT has put his name into the discussion when it comes to the presidential election in 2024. However, there are a few different factors to consider here.
Former President Donald Trump looks all but certain to win the GOP nomination if he decides to run, but that's a big "if." Trump hasn't confirmed his candidacy yet, and he could decide to go in a different direction between now and the Republican primaries.
If the conservative voter base remains as keen on Trump over the coming years, but the former president decides not to run, it could create a massive opportunity for Ron DeSantis. Trump has repeatedly praised the Florida governor and endorsed him for his current job when he ran for election. Trump even suggested DeSantis might be a good potential running mate in a future presidential campaign.
If Trump decides against running, DeSantis would probably end up neck-and-neck with former Vice President Mike Pence in the polls. However, he would have a major advantage over Pence: Trump's backing. After Pence refused to back Trump's claims about voter fraud following the 2020 election, many of the former president's supporters soured on the then-VP.
So, how will Ron DeSantis play his cards? If Trump goes for the White House again, running against him would likely be a poor strategy for the governor. However, if Trump sits it out, DeSantis could easily pick up a huge portion of his likely voters.
Copyright 2021, IntegrityMag.com