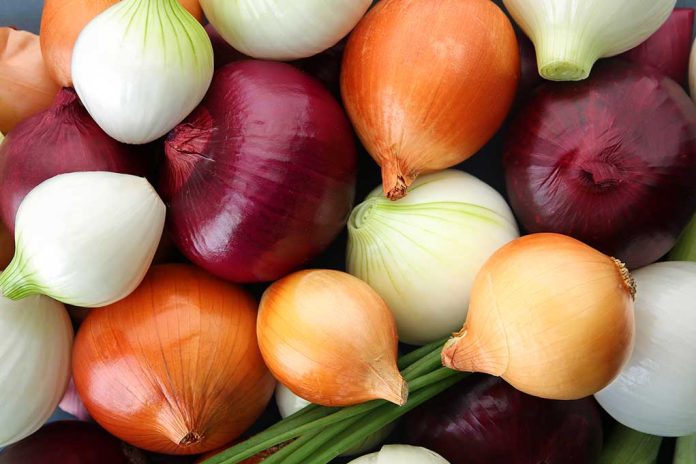 (IntegrityMag.com) – Since last March, COVID-19 has dominated most of the public health messaging we hear, but other threats to our general wellbeing are always lurking. One such threat has just arrived from an unexpected source: contaminated onions.
On Wednesday, October 20, the Food and Drug Administration (FDA) released a statement regarding a "salmonella outbreak linked to whole, fresh onions." The FDA is investigating the matter alongside the CDC and agencies at the local and state levels.
So far, 37 states have been affected. The statement revealed that ProSource Inc., a distributor based in Idaho, was the outbreak's source. ProSource reportedly imported the contaminated onions from Tijuana, Mexico.
OUTBREAK UPDATE: Fresh whole onions causing large Salmonella outbreak in 37 states. Throw away any unlabeled onions at home. Do not eat, sell, or serve red, white, or yellow onions imported from Mexico and distributed U.S.-wide by ProSource Inc. https://t.co/SH3Iy7JeEG pic.twitter.com/ukttkDi5pp

— CDC (@CDCgov) October 20, 2021
The company has voluntarily recalled red, yellow and white onions of the medium, jumbo, colossal and sweet varieties. The FDA is directing consumers, food retailers and restaurants not to consume or sell onions that fall under the recall. Also, the CDC has stated any business suspecting it had contaminated onions should sanitize any surface they may have touched.
Thus far, health authorities have linked the salmonella outbreak to over 650 illnesses requiring 129 hospitalizations. No one has reported any related deaths. Salmonella is most dangerous in people older than 65, younger than 5 or who have weaker immune systems.
Copyright 2021, IntegrityMag.com