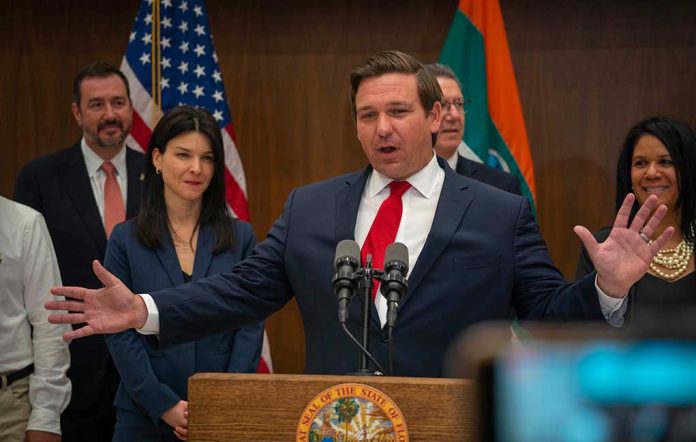 Florida Governor Ron DeSantis (R) has made no bones about his views on the COVID-19 pandemic. While he acknowledges the virus as a serious threat, he is adamant that movement restrictions, mask mandates and vaccine requirements are not an acceptable course of action to stop it. He's not backing down from this position, even in the face of the new Omicron variant of the disease.
On Monday, November 29, the governor spoke at a law enforcement conference in Orlando. During his address, he blamed the media for stirring up a frenzy around Omicron and reaffirmed his commitment to protecting the individual liberties of Florida's citizens. DeSantis highlighted South African findings stating most cases of the variant cause only mild illness.
Gov. Ron DeSantis made it clear today that despite the new omicron variant of COVID-19, Florida will not be shutting down. Read more: https://t.co/Obzkt0ew5i pic.twitter.com/G5hmfTqKLR

— WESH 2 News (@WESH) November 30, 2021
Former lawmaker Ron Paul (R) has also questioned how serious a threat the Omicron variant is. He labeled it "The Omicron Deception" in a recent post on Rumble.
These assertions come in the wake of uncertain indications from the federal government regarding potential pandemic-related restrictions the country might face. Leading public health advisor Dr. Anthony Fauci recently said it was too early to say whether new lockdowns might become necessary in response to this latest variant. However, Fauci did say we need to "prepare for the worst."
Dr. Anthony Fauci says it's "really too early to say" whether Americans can expect new lockdowns or mandates to combat omicron variant.

"We just really need to, as I've said so often, prepare for the worst." https://t.co/E0fMRghHKQ pic.twitter.com/T3uk9MKsC1

— ABC News Politics (@ABCPolitics) November 28, 2021
So, might we be going back to a time of rolling lockdowns?
Copyright 2021, IntegrityMag.com