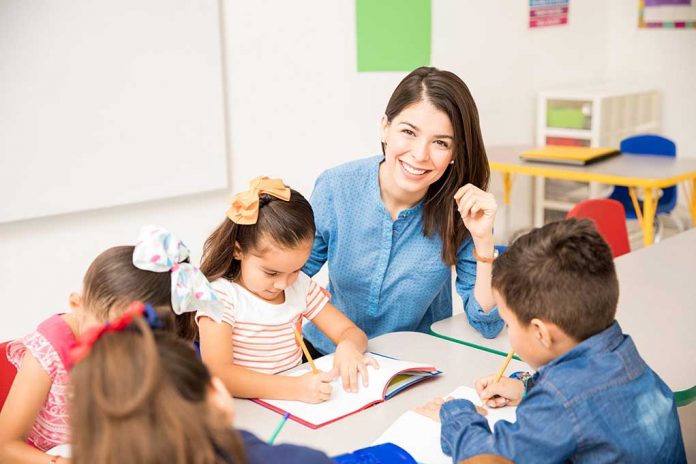 (IntegrityMag.com) – Ron DeSantis (R-FL) seems to be going against the grain on many issues. This includes COVID-19 restrictions. He recently vowed to keep schools open in spite of a local rise in cases, instantly making himself the target of significant debate.
The DeSantis Promise
On July 22nd, Santis addressed the recent spike in COVID cases in his state. Speaking from a bill signing, the governor talked about in-person teaching again and announced his excitement for the return of a normal form of school.
When the topic of masks and mandates was brought into question, Santis stated that parents wouldn't be forced to mask their children. Local restrictions and mask mandates have already been discontinued through recent legislation.
The governor also touched on advocates calling for a mask mandate at the federal level, but insisted that Florida will not, and would not, go in that direction. He says children need to be able to breathe and just be kids. Governor DeSantis believes that we need to start putting our children first and he's right, they're our future.
Recent Spike in the Sunshine State
DeSantis made his statement despite a recent surge in coronavirus cases in Florida. On July 16th, the state reported 8,490 new cases. This dropped to 8,010 before shooting up to 8,988 on the 20th, and eventually, 12,647 on the 21st. Dr. Jason Salemi, an epidemiologist at the University of South Florida Health, recently said he expects new reports will show 60,000-70,000 cases.
Salemi added that even vaccinating people alone won't be much help, as the people that receive it aren't fully protected for five or six weeks. He cited the damage the delta variant has caused in under a month, and concluded by encouraging the use of other preventative measures, like masks and social distancing.
Florida has been dealing with several coronavirus-related issues recently. Between the cruise industry's siege by the Centers for Disease Control and Prevention (CDC) and the recent uptick in new cases, they continue to struggle to find a middle ground.
However, Governor DeSantis is clearly tired of the lockdowns and restrictions, as are many of America's citizens. They wish to just return to "normal" life as promised at the onset of quarantines, rather than donning masks being worn to "flatten the curve."
Copyright 2021, IntegrityMag.com