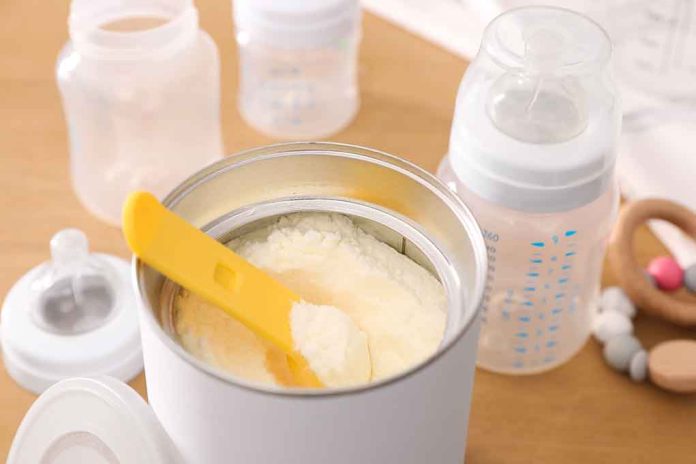 The Formula Nightmare Just Took An Unexpected Turn For The Worse
(IntegrityMag.com) – The Abbott Labs plant in Sturgis, Michigan that was the center of the baby formula shortage had to stop operations again after severe weather wreaked havoc on the area. The plant, closed by the federal government in February and just recently reopened, was working to re-stock the supply of specialty formulas for babies with few other food options.
According to a statement from Abbott, the Sturgis area fell victim to significant flooding, causing the city's storm drain system to overflow onto the streets and into parts of the factory. The company notes it will fully comply with all FDA standards, regulations, and protocols for cleaning, sterilizing, and reopening the plant.
A baby formula plant in Michigan, which resumed production less than two weeks ago after a monthslong closure that exacerbated a nationwide shortage, has shut down again after parts of the facility were flooded during a severe storm. https://t.co/WCgbNQM5TX

— The New York Times (@nytimes) June 16, 2022
Before the shutdown, the plant had produced the specialized formula "EleCare," designed for infants with digestive problems and severe food allergies. Upon reopening, the plant will prioritize production of EleCare and other special recipes, adding the more widely used Similac on the schedule after the company fills specialty orders. The company hopes to clean and restart the factory within a few weeks.
Over fears of a dangerous bacteria, the original shutdown caused a nationwide shortage of formula because production stopped, and existing inventories in stores and parents' homes ended up in the trash. Hopefully, this hiccup won't be as disastrous.
Copyright 2022, IntegrityMag.com