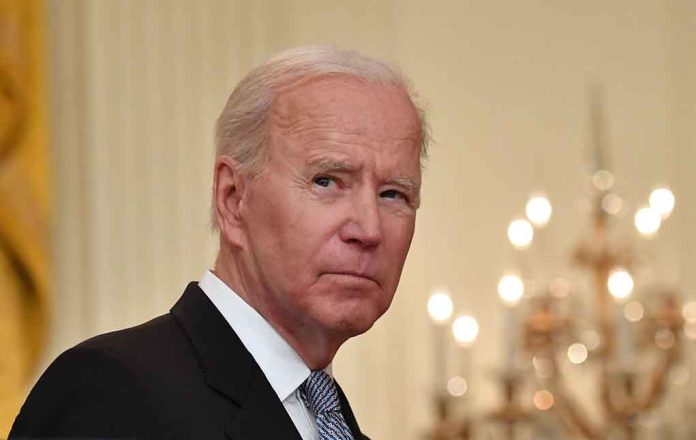 Biden BAILS On Key Democrat Plan – Something Has Changed…
(IntegrityMag.com) – The House Select Committee investigating the January 6 riot at the US Capitol Building has just finished with summer hearings. The panel has scheduled its public work to resume in September. Thus far, the Democrat-led group has made it clear they're trying to paint former President Donald Trump as the instigator of what happened. However, Trump's successor is steering well clear of the fray.
Analysts have noted that President Joe Biden is usually absent from public view when important Committee business is unfolding. Additionally, he has made few public statements about the group's findings.
Biden keeps his distance from Jan. 6 panel: President Biden has kept his distance from the explosive hearings led by the committee investigating the Jan. 6 insurrection at the U.S. Capitol, wary of politicizing the issue as the… https://t.co/VeUd8nxNqx #Administration #News pic.twitter.com/6ifxy8f82M

— Marcus Evans 📚 ⚛️ 🔭 ⚖️ 💙 🎼 🏅 (@MarcuswevansSr) July 24, 2022
An insider source from the White House stated that the president doesn't want to make a political issue out of what is supposed to be an independent investigation. Some experts believe if Biden were to condemn the former commander in chief publicly based on the Committee's findings, it would open the door for Republicans to lump even more criticism on the perceived partisanship of the investigation.
Six Democrats and two Republicans comprise the group. Both of the GOP lawmakers involved, Reps. Liz Cheney (R-WY) and Adam Kinzinger (R-IL), are noted critics of former President Trump. House Speaker Nancy Pelosi (D-CA) rejected the nominations of Reps. Jim Jordan (R-OH) and Jim Banks (R-IN) to the panel last year, leading to widespread accusations of anti-Trump bias.
Is Biden avoiding the limelight on this issue to preserve the appearance of independence on the part of the January 6 Committee? Might exposure to it actually damage him politically?
Copyright 2022, IntegrityMag.com