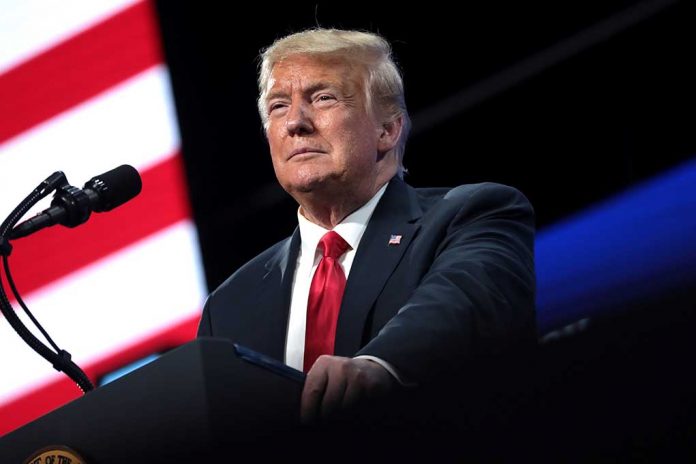 (IntegrityMag.com) – Despite acting as a magnet for some of the harshest political criticism we've ever seen in the United States, former President Donald Trump remains a political force with which to reckon. Many Republicans still see him as their man for the presidential nomination in 2024, and the new poll results seem to bear out that feeling.
New Poll Shows Trump at the Head of the Pack
A voter survey from McLaughlin & Associates, which the polling company conducted between September 9-14, asked Republican participants who they would vote for in the GOP primary if it took place tomorrow. Donald Trump was by far the strongest candidate, with 59% selecting him as their man.
2024 National Republican Primary Poll:

Trump 59%
Pence 10%
DeSantis 8%
Cruz 3%
Romney 3%
Haley 2%
Rubio 2%
Kasich 2%
Cheney 2%
Owens 1%
T. Scott 1%
Pompeo 1%
Cotton 1%
R. Scott 1%
Noem 0%

McLaughlin & Associates ~ 456 LV ~ 9/9-9/14https://t.co/4P4mPF6ULY

— PollTracker (@PollTrackerUSA) September 15, 2021
Former Vice President Mike Pence, who served under Trump, was the next-best performer with 10%. Pence had a public falling out with Trump after he refused to back the former president's claims that current President Joe Biden won the 2020 election by fraud. However, the former vice president has indicated he's sizing up a bid for the White House in 2024. He's in the process of hiring staffers for a new office in Washington, DC, recently adding senior GOP fundraiser John Fogarty to his team.
Florida Governor Ron DeSantis (R) is third, claiming 8% of the vote in this poll. The Sunshine State's top man has endeared himself to Conservatives with his no-nonsense approach to various policies, such as lockdowns and mask mandates. Donald Trump singled him out for praise during the pandemic on many occasions and helped him win Florida's gubernatorial seat in 2018 by backing his campaign.
Many commentators have speculated that DeSantis could pose the greatest threat to Trump, as he espouses many of the former president's policies but has not courted as much controversy. However, DeSantis has said he remains focused on Floridian politics, and many analysts reckon he would be unlikely to challenge Trump in a primary if the former president decides to run again.
Will Trump Run?
If Donald Trump's participation in the 2024 Republican primary were a certainty, he'd be a shoo-in at this point. However, the former president has been deliberately vague regarding his intentions. He recently told Fox News Digital the country was coming close to the point of having "no choice" but for him to run again, given the Biden administration's poor performance. However, we still can't be certain.
So, Trump is the clear front-runner, but his participation is far from guaranteed. If he decides not to run, his likely voters may well decide to remain loyal to him by picking a candidate who has also stood by him; this means Mike Pence would suffer, while Ron DeSantis would greatly benefit.
Copyright 2021, IntegrityMag.com