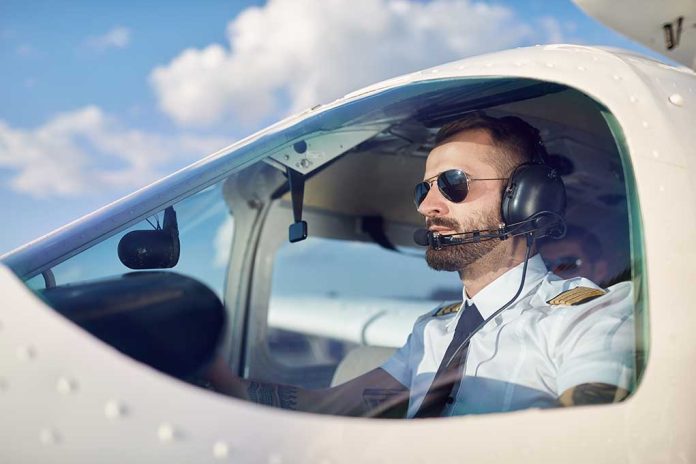 Pilot VANISHES – Mysterious Story Comes To Light
(IntegrityMag.com) – Flying airplanes or helicopters can be a dangerous undertaking. The most infamous flight crash in contemporary history involved basketball superstar Kobe Bryant in 2020, killing the player, his 13-year-old daughter, and seven other individuals onboard. A recent aviation incident involving a young man from North Carolina ended in the untimely loss of one more life. The deceased might not have been famous, but his death is just as tragic.
Charles Hew Crooks' Body Found After Mysterious Accident
On July 29, investigators discovered the remains of 23-year-old Charles Hew Crooks in a back yard in Fuquay-Varina, North Carolina, hours after he reportedly jumped out of a plane without a parachute.
According to reports, Crooks had been flying with another individual in a small cargo plane when the pair encountered difficulty and decided to make an emergency landing. They directed their craft toward Raleigh-Durham International Airport, around 30 miles north of their location. The aircraft landed there with its co-pilot. However, the pilot had decided to jump out in midair despite not having a harness or parachute.
Solving the Mystery
After learning of the pilot's decision, Federal Aviation Authority (FAA) officials attempted to piece together what had happened. The 911 call on the event arrived around 2:30 p.m., and the plane touched down at Raleigh-Durham 18 minutes later. They questioned why Crooks decided to do what he did, noting he must have suffered injuries.
After the plane landed, the authorities initiated a search-and-rescue mission. They found the young man's body in a residential area just over four hours after he exited the aircraft.
As details of the story trickled out, Devin Lynch, a friend of the deceased pilot, demanded answers. Lynch told local media he wanted to hear the cockpit recordings before his friend's jump, which air traffic control operatives couldn't access. A friend of the pilot for three years, he described Crooks as always following the rules of flying. To exit a plane without a parachute would have been out of character for the aviator, Lynch opined.
The pilot's father, Hew Crooks, is also struggling with the news. He said he couldn't understand why this would have happened and indicated he was having difficulty processing it. He spoke about how much his son loved flying, noting the boy's achievement in qualifying for a private flight license during his sophomore year in college.
The National Transportation Safety Board (NTSB) revealed it's taking charge of the probe into what happened.
Copyright 2022, IntegrityMag.com