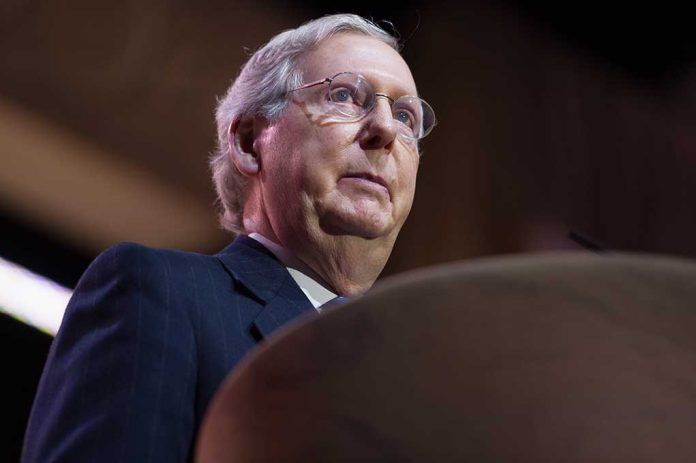 (IntegrityMag.com) – The dispute over the federal debt ceiling, which has caused a deep division between the two major parties for weeks now, looks to be nearing its end. Senate Minority Leader Mitch McConnell (R-KY) bargained with Senate Majority Leader Chuck Schumer (D-NY) to suspend the filibuster for a one-time vote on a debt limit increase. In turn, the Democrats will need to accept accountability for the consequences of their spending.
Many people in the Republican Party feel this move is a betrayal of previous commitments not to alter the debt ceiling, including former President Donald Trump. Through his representative, Liz Harrington, Trump excoriated McConnell for folding on the issue and giving liberal lawmakers exactly what they wanted. Trump also claimed Democrats would have backed down if McConnell had stuck longer to his position.
Trump lashes out at nemesis Mitch McConnell over GOP leader's deal with Democrats over raising debt ceilinghttps://t.co/1J5FNnZcqT

— New York Daily News (@NYDailyNews) December 9, 2021
The House of Representatives voted to accept the Senate resolution along party lines on Thursday, December 9.
Though it looks like a resolution on the debt ceiling is near, we're not out of the woods yet. According to Treasury Secretary Janet Yellen, the United States could default on its debts by December 15 without new borrowing. Can our lawmakers draft the necessary changes and secure votes before that deadline?
Copyright 2021, IntegrityMag.com