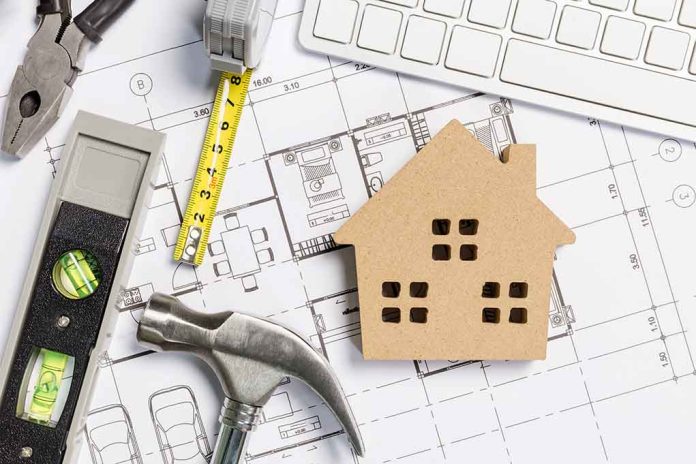 (IntegrityMag.com) – Chip and Joanna Gaines are the co-stars of a reality show called "Fixer Upper." The program tracks their progress as they renovate dilapidated houses and turn them into dream homes.
It's a great show for anyone who's into construction, design or interior decor, or just anyone who dreams of taking an old, weathered property and making it beautiful again. However, Joanna Gaines has recently found herself embroiled in a slightly strange social media controversy.
Joanna Gaines Catches Heat Over Her Festive Decorations
On Saturday, November 6, Gaines put up an Instagram post of herself and her three-year-old son, Crew, decorating a Christmas tree. The caption accompanying the photo reads, "It was 54 degrees today, so… #CrewsTree." Gaines was apparently suggesting the cold weather inspired her and her young son to start decorating for Christmas early. The post drew a mixed reaction from Gaines' legion of social media followers.
Some fans appeared to say they'd follow Gaines' lead in setting up their Christmas decorations early. One person said, "I feel like this [means I can] put my tree up early… Anyone else? Lol." Another person said, "This makes my heart smile."
However, others disparaged her decision. One follower wrote, "We put cookies out for [Santa] tonight," in apparent mockery. Others pointed out Thanksgiving has not yet passed, opining it was disrespectful to that holiday to start celebrating Christmas first.
Another critique some commenters leveled at Joanna Gaines and her young son: They stood on bar stools while putting decorations on the tree. Admittedly, this probably isn't the safest way to hang baubles.
The Gaines' Position on Critical Race Theory
Their family isn't new to controversy, although their previous spotlight has come from a far more serious place. Chip and Joanna Gaines previously attracted the online world's attention after they appeared to take a stand on critical race theory (CRT).
Shannon Braun, Chip Gaines' sister, ran for a position on the Grapevine-Colleyville Independent School District board earlier this year. Part of her platform was her opposition to CRT, the highly divisive school of thought on race relations that has caused bitter rows between liberals and conservatives. Chip and Joanna Gaines donated $1,000 to her campaign in apparent support against the idea children should learn about CRT in schools.
So, what do you think? Is Joanna Gaines' decision to decorate for Christmas in November a worthwhile controversy, or is it just more social media noise?
Copyright 2021, IntegrityMag.com