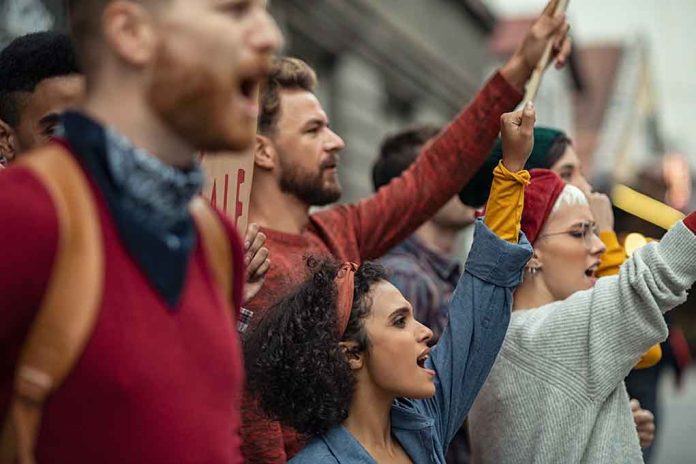 (IntegrityMag.com) – On Monday, November 15, attorneys for the defense and prosecution made their closing arguments in the Kyle Rittenhouse trial. Rittenhouse, now 18, stands accused of the murder of two people during riots in Kenosha, WI, last August; he maintains his innocence on the grounds he was protecting himself and his community. According to one prominent Conservative commentator, the end of Kyle Rittenhouse's trial could mark the beginning of ugly scenes in Kenosha.
Jack Posobiec, a senior editor at Human Events, appeared on Breitbart News Daily on Monday, November 15, to discuss the Rittenhouse trial. He blamed Democratic Wisconsin Governor, Tony Evers, for allowing last summer's riots to happen in Kenosha in the first place. The editor noted Evers had called in 500 National Guard troops in anticipation of riots following the verdict in the Rittenhouse trial. Had Evers taken this step last summer, Posobiec opined, Kyle Rittenhouse wouldn't have needed to shoot anybody.
Posobiec stated unrest following the announcement of the verdict was inevitable.
"Exclusive — Jack Posobiec: After Rittenhouse Verdict, 'You Are Going to See an Uprising in Kenosha'" Jack Posobiec predicted that organized riots would be launched in Kenosha, WI, after a verdict is rendered in the trial of Kyle Rittenhouse.https://t.co/QTinXASUbo

— Democracy In Motion (@DemocracyMotion) November 16, 2021
Counsel for the defendant has maintained Rittenhouse acted in self-defense last summer, and the prosecution was relying on manipulated video evidence to make its case. The jury must now consider five felony counts against Rittenhouse, including two first-degree homicide charges.
Copyright 2021, IntegrityMag.com