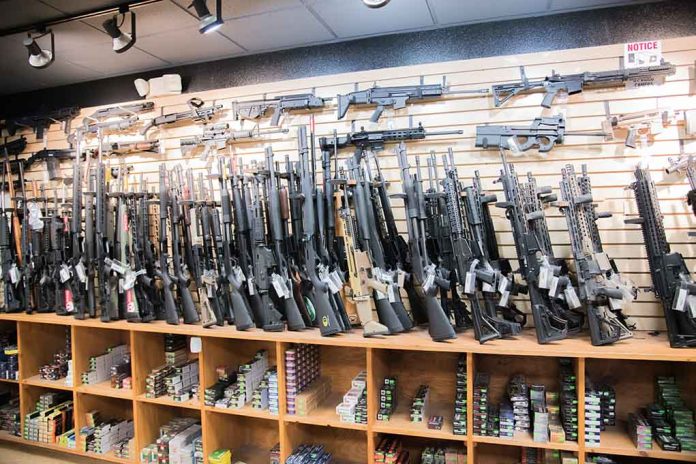 After Passing Major Gun Control Law -Top Democrat Demands More Gun Control
(IntegrityMag.com) – Vice President Kamala Harris and her husband traveled to Chicago this week, just days after the tragic shooting in nearby Highland Park. In remarks before the 2022 National Education Association's 2022 convention, Harris addressed the shooting, offering condolences to the city, its residents, and all those impacted. Then, she moved directly into the political agenda of gun reform.
Between well-wishes for those suffering and the occasional mention of prayer, Harris stuffed her remarks with talk of gun control. Harris called for Congress to "have the courage to act and renew the assault weapons ban." She touted the recently passed bipartisan gun control bill, calling it the first progress on the issue in three decades.
Vice President Kamala Harris called Tuesday for Congress to renew a federal ban on assault-style rifles and to end liability protections for gun manufacturers, saying "we need to end this horror" of gun violence. https://t.co/fMs6dT4wUT

— The Washington Times (@WashTimes) July 5, 2022
Harris also shifted blame for mass shootings to gun manufacturers, calling for legislators to repeal the law shielding them from civil suits the victims and their families might want to raise. While the vice president believes the latest bill, which includes funding for mental health issues and increased school security, is a step in the right direction, she also believes there's more to do.
"Teachers should not have to know how to treat gunshot wounds," Harris said, adding that barricading doors and carrying weapons for potential firefights also shouldn't occur in a teacher's daily instructional plans. The vice president tossed in several mentions of the horrific killings in Uvalde, Texas, to help illustrate her points.
Copyright 2022, IntegrityMag.com