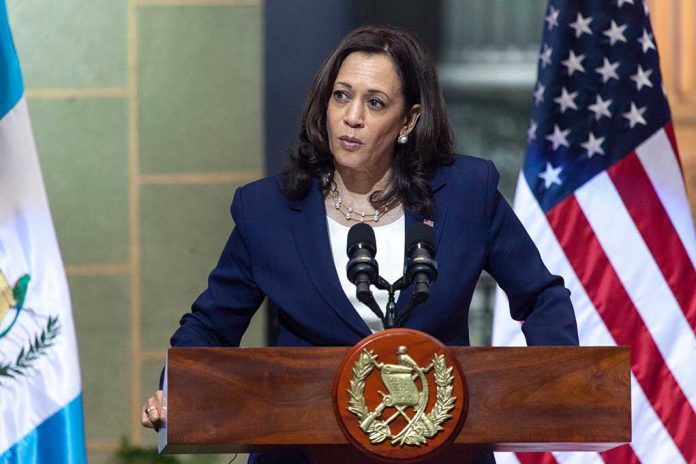 (IntegrityMag.com) – Vice President Kamala Harris has occupied many different roles in her career, both inside and outside of politics. A lawyer by trade, she served as California's attorney general before winning election to the US Senate in 2016. She's also written several books.
However, the vice presidency is without doubt her most prominent job yet, and the most important role she's had during her time in the Biden administration is that of "border czar." Unfortunately for the American people, her performance in this role has been questionable. Since President Joe Biden gave her the task in March, the situation at the border has only gotten worse.
Republicans Call Kamala Out
Now, senior GOP figures have had enough of Harris' perceived failure to take action to address the immigration crisis. A number of high-profile figures within the Republican Party have called for her to be removed from the role.
Former Ambassador to the UN and Governor of South Carolina Nikki Haley (R) called for the VP to be "fired" from her border responsibilities via Twitter last week. Haley also accused Harris of "emboldening cartels."
Kamala Harris must be fired from her role overseeing the border crisis.

She has failed to secure the border and has emboldened cartels. We need real leadership.

— Nikki Haley (@NikkiHaley) August 2, 2021
Haley's decision to mention cartels is an interesting one. As the border crisis has progressed, we've heard more and more about the problem of drugs coming across the border with the undocumented migrants. Deadly fentanyl is of particular concern; in May, ABC reported that Customs and Border Protection (CBP) agents had seized more fentanyl at that point in 2021 than in the whole of 2020.
Senator Ted Cruz (R-TX) highlighted the issue in his tweet calling for Kamala Harris to step away from her border job. He also pointed to the fact Joe Biden was prioritizing party fundraising efforts at this time despite the steadily worsening situation at the border.
Hundreds of thousands of illegal aliens, thousands of pounds of dangerous drugs including fentanyl, and terrorists are flooding across the border due to Biden and Harris' open borders.

And what's Joe Biden doing today? Speaking at a DNC fundraiser. #BidenBorderCrisis

— Ted Cruz (@tedcruz) August 2, 2021
Other Republican figures to criticize Harris' performance at the border include Arizona Attorney General Mark Brnovich and Rep. Glenn Grothman (R-WI). In June, Grothman led a group of over 50 GOP lawmakers in writing a letter slamming Harris' failure to visit the border despite everything going on there.
The Crisis in Numbers
Republicans have a right to be concerned. Preliminary statistics indicate July 2021 was one of the worst months on record for border issues. CBP officials stopped undocumented migrants trying to cross the border about 210,000 times in July, which is the highest figure in just over two decades. Officials also believe the number of children stopped at the border in July may end up being the highest on record.
Is it time for Kamala to go?
Copyright 2021, IntegrityMag.com