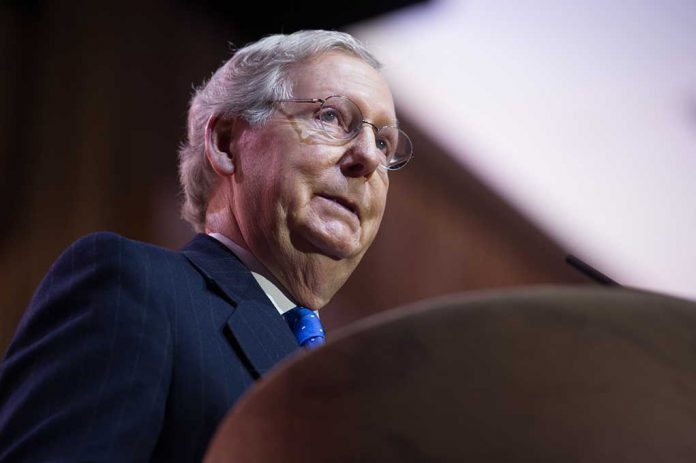 (IntegrityMag.com) – The process by which presidents make appointments to key federal agency roles is often fraught with controversy. President Joe Biden has already learned this the hard way; in the weeks after he entered the Oval Office, his pick for the Office of Management and Budget, Neera Tanden, was brushed off by the Senate over previous inflammatory remarks. Now, another of his nominees might be in trouble.
David Chipman, the president's pick to head up the Bureau of Alcohol, Tobacco, Firearms, and Explosives (ATF), was divisive from the start. Like Biden, Chipman advocates stricter gun control laws, placing him in stark opposition to most conservatives. Now, it has emerged Chipman may also have ties to China, further endangering his nomination. ATF insiders have also alleged Chipman has a history of making racially insensitive remarks.
Senate Minority Leader Mitch McConnell, R-Ky., said during the weekend that President Joe Biden should withdraw David Chipman's nomination to head the Bureau of Alcohol, Tobacco, Firearms, and Explosives. https://t.co/EfrMRKaA7i

— Newsmax (@newsmax) August 9, 2021
On Saturday, August 7, Senate Minority Leader Mitch McConnell (R-KY) called for Biden to withdraw Chipman's nomination during a speech on the Senate floor. McConnell highlighted the fact Chipman had appeared on a Chinese "propaganda network" in 2012 and failed to disclose this fact.
Republican Senators are united in their opposition to Chipman's appointment, and they also have the support of moderate Democrat Senators Joe Manchin (D-WV) and Kyrsten Sinema (D-AZ), as well as Angus King (I-ME). If Biden wants to appoint an ATF head anytime soon, it looks like he may have to look past Chipman.
Copyright 2021, IntegrityMag.com