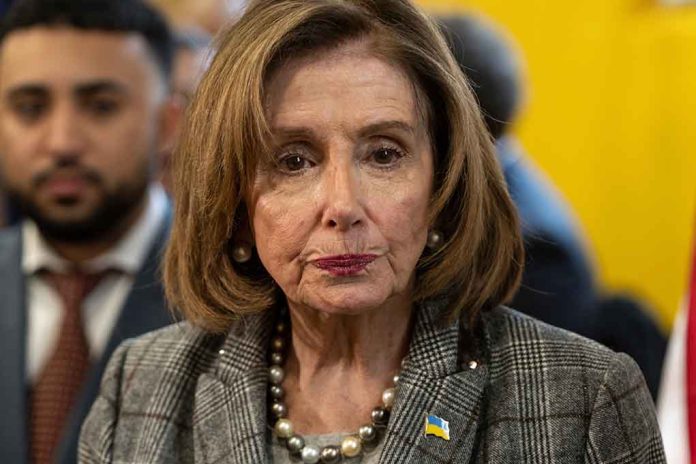 Pelosi Family BOMBSHELL – Jail Time Shocker
(IntegrityMag.com) – Right before midnight on May 28, 82-year-old Paul Pelosi found himself in a car crash in Napa Valley, California. He was on his way from a dinner party driving to the exclusive River Run Vineyard home he shares with his wife, House Speaker Nancy Pelosi (D-CA). Instead, police arrested him and charged him with drunk driving. Now, the allegations against him could see him spend some time behind bars.
The New York Post story highlighting online records shows Pelosi had a blood alcohol level of .082, which is above the legal limit. Because the crash resulted in injuries to a 48-year-old man, prosecutors have upgraded the initial DUI charge to driving under the influence of alcohol and causing injury. The Post's report notes that Pelosi's booking happened after 4 a.m., and that he made $5,000 bail a few hours later.
Nancy Pelosi's husband Paul charged with DUI causing injury, could face jail time https://t.co/M0AbFk7jag pic.twitter.com/Rr4aT7lSZn

— New York Post (@nypost) June 23, 2022
Pelosi's alleged crimes could land him five years of probation, a minimum of five days in jail, and a slew of fines, insurance surcharges, and other possible legal hassles. California has strict drunk-driving laws. Along with required, often costly, courses on the dangers of alcohol and driving, the state often requires interlocking devices requiring convicted offenders to breathe into breathalyzers before their vehicles start.
House Speaker Pelosi, who was in Providence, Rhode Island, to deliver a commencement speech at Brown University at the time of the incident, had no comment.
Copyright 2022, IntegrityMag.com