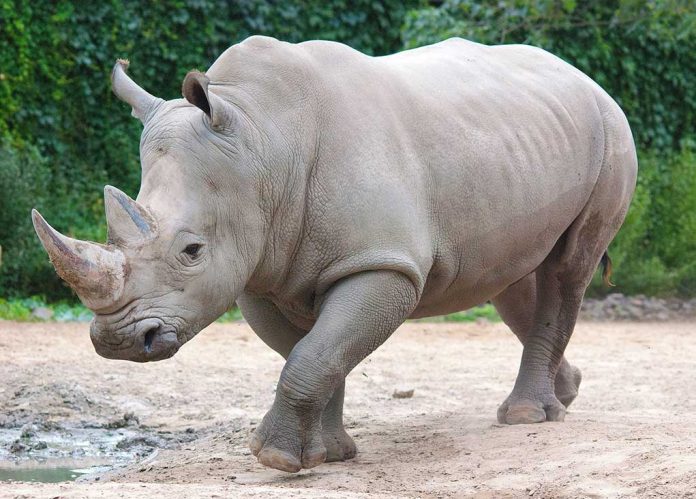 (IntegrityMag.com) – We're used to seeing large, dangerous animals in zoos or wildlife parks. Some of us are even lucky enough to have seen them in their natural habitats on a safari trip. Most people will never see an animal like a rhinoceros wandering aimlessly about; however, that's precisely what happened in Nebraska recently after a rhino escaped from his enclosure at the local zoo.
On Tuesday, September 7, a male Indian rhino named Jontu escaped from his enclosure at the Henry Doorly Zoo and Aquarium. The animal spent about 50 minutes eating grass in a nearby area before zookeepers could contain him safely. They used vehicles to barricade the animal into the area before approaching him. Meanwhile, guests and other zoo employees sheltered-in-place in safe zoo locations while the containment efforts took place.
Adult rhinoceros escapes enclosure at Nebraska zoo, prompting evacuation

Jontu the Indian rhino ventured 30 to 40 feet away from his barn after the enclosure didn't lock correctly.https://t.co/b3EbNMMPSH

— New York Daily News (@NYDailyNews) September 9, 2021
According to Dan Cassidy, the zoo's vice president of animal management, keepers used apples to lure the rhino into his enclosure once again. Cassidy was glad to report no injuries among other animals or people during the incident.
Jontu reportedly took advantage of an improperly locked gate to stage his great escape. Nebraskans will be glad to learn keepers at the zoo plan to put a second gate between the rhino and the outside world following this incident.
Copyright 2021, IntegrityMag.com