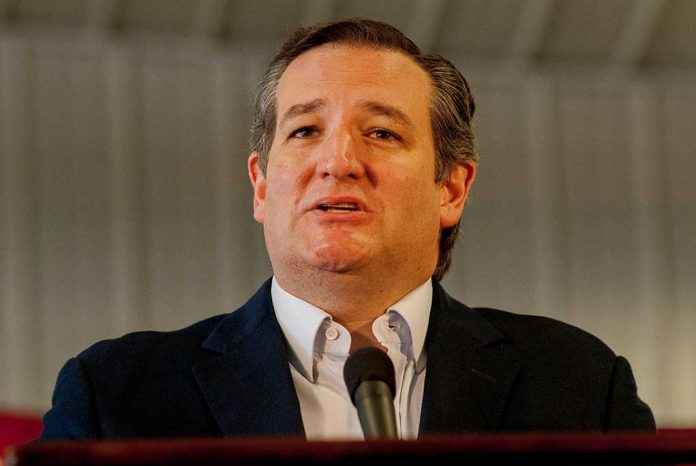 (IntegrityMag.com) – Senator Ted Cruz (R-TX) had a lot to say when he spoke with Margaret Brennan during a November 21 episode of CBS's "Face the Nation." The Texan Senator, who was primarily critical of President Joe Biden's repeated blunders, let Brennan in on the real reason why he's so committed to fighting the commander-in-chief's agenda.
Cruz Speaks Out
It started with a simple question: Why, exactly, does Cruz continue to block Biden's National Security post nominees? After all, as Brennan pointed out, the White House views it as obstruction.
Cruz was quick to respond, dismissing the notion. Rather than attempting to endanger the country, he claims the hotly-debated practice is really about protecting America instead. "I'm trying to get President Biden to stop acquiescing and surrendering to our enemies," he explained.
The senator then gave a list of his attempts to curtail problem countries and stand up to foreign nations that threaten national security. In China, that involved introducing an amendment to bar the US from purchasing green technology crafted in sweatshops and concentration camps. Cruz pointed out every single Democrat voted against the bill except for Joe Manchin.
Differences in Policy
Cruz attempted to author a heavily supported bipartisan bill aimed at Russia with sanctions designed to stop the controversial Nord Stream 2 pipeline. The senator says Joe Biden all but destroyed the effort when he stepped into office by surrendering to Vladimir Putin's demands.
It was immediately apparent just how strongly Cruz felt about the Russian-owned pipeline. In a passionate speech, he called Biden's lackluster response to it a generational geopolitical mistake. The senator worries it will line Putin's pockets, raising the risk of aggressive attacks against America and its allies.
"I place the hold on these nominees in order to try to pressure Biden to follow the law," he clarified. However, whether or not it will work remains to be seen, especially given the Democrats' majority at the moment. That could change soon.
Will Cruz Ever Stop Blocking Biden?
Brennan eventually asked Cruz to clarify whether he would finally allow Biden's nominations to proceed. The senator suggested a compromise: listing and then delisting Nord Stream 2 AG under the Countering America's Adversaries Through Sanctions Act.
Cruz feels the effort would resolve concerns about Biden surrendering to Putin. But the senator also says it would trigger a congressional override veto. That's a vote the president probably wouldn't win — and one that would cause him to lose face.
Copyright 2021, IntegrityMag.com