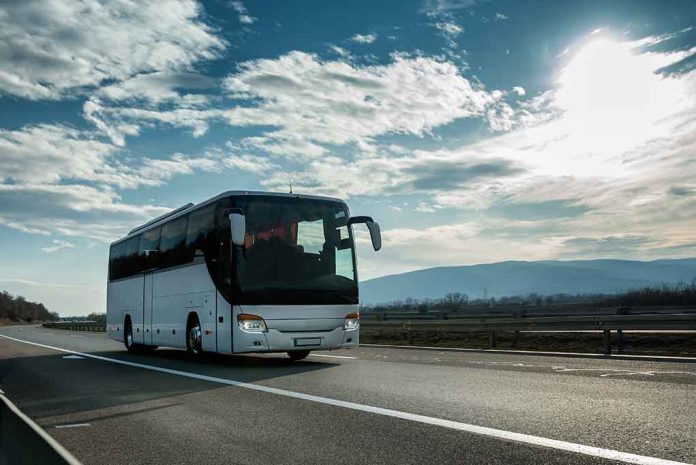 Democrats Frantic As Promised Busloads Of D.C. Migrants Continue To Pour In
(IntegrityMag.com) – Texas Governor Greg Abbott made a promise to send the southern border issues his state faces to President Joe Biden's back yard in Washington, D.C., so he could experience what it's like to be overwhelmed with migrants first-hand. The first bus arrived a month ago, dropping off migrants around the corner from D.C.'s Union Station. Since then, Abbott has kept his promise, sending 32 buses north altogether.
Each bus can carry up to 40 migrants, although they've been averaging 24. Participation in the busing is voluntary, and the ride from Texas to the nation's capital is free of charge, paid for with funds from the Texas treasury. Abbott designed the bus transportation to ease the burden on businesses and nonprofits in Texas localities, typically forced to deal with waves of migrants passing through their towns, creating transportation problems and other issues.
JUST IN: Texas Gov. Greg Abbott's vow to send migrants from the southern border to Washington, D.C., became reality Wednesday, when the first bus arrived in the nation's capital. https://t.co/ruvgyPZ3MK pic.twitter.com/pIwLogmfF0

— Newsmax (@newsmax) April 13, 2022
Unfortunately, what's been a daunting issue for Texans at the border hasn't materialized the same way in the US capital, as most of the migrants walk to Union Station and hop on trains or buses to other destinations to meet up with friends or family. According to the Washington Examiner, Ken Cucinelli, a Homeland Security official under former President Donald Trump, said while the busing is a great show, it hasn't done much to demonstrate to people in Washington, D.C. what the reality is at the border.
Copyright 2022, IntegrityMag.com