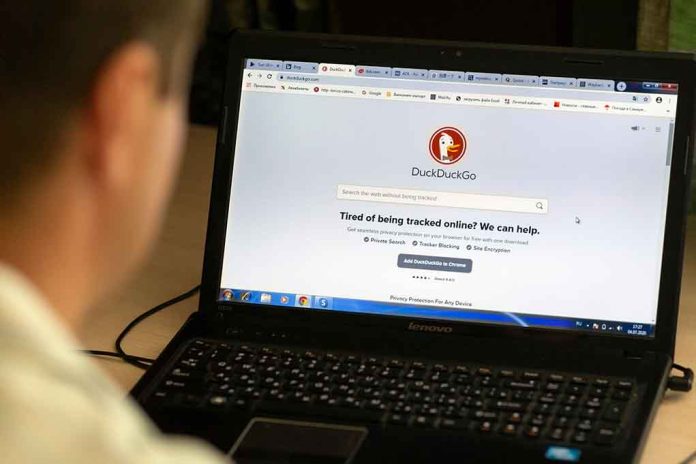 Privacy-Focused Search Engine Makes Confession That Could DESTROY Them
(IntegrityMag.com) – Nowadays, it's common to hear people expressing their dissatisfaction about the lack of privacy on search engines, notably Google. The largest search platform is free to harvest user data and use it to turn over massive profits. Privacy advocates have championed one alternative search engine: DuckDuckGo. Yet, DuckDuckGo apparently isn't as private as it says it is.
Our new TV & Radio campaign, "Watching You", launches nationwide in the U.S. today🤗

We put a twist on The Police's iconic song "Every Breath You Take" to highlight how companies like Google invade your privacy online & how easy it is to take back your privacy with DuckDuckGo. pic.twitter.com/By0Q3SqqPh

— DuckDuckGo (@DuckDuckGo) May 17, 2022
On Tuesday, May 24, Review Geek published an investigative article about DuckDuckGo. The piece showed the search engine doesn't always keep users' search activity to itself. Under the terms of a confidential deal with Microsoft, the search engine does not block tracking activity by the Big Tech giant. This development is worrisome because DuckDuckGo obtains most of its search results from Microsoft's Bing.
Following the emergence of this report, DuckDuckGo CEO, Gabriel Weinberg, admitted his company doesn't block Microsoft tracking.
For non-search tracker blocking (eg in our browser), we block most third-party trackers. Unfortunately our Microsoft search syndication agreement prevents us from doing more to Microsoft-owned properties. However, we have been continually pushing and expect to be doing more soon.

— Gabriel Weinberg (@yegg) May 23, 2022
This isn't the only controversial business practice DuckDuckGo has been using, according to Breitbart reports. Earlier this year, Weinberg announced the company would begin punishing content it deemed "disinformation" in search rankings. Right-wing commentators have long criticized Google for downranking conservative content in this way while allowing liberal web pages much more freedom.
Would this new information make you less inclined to use DuckDuckGo in the future?
Copyright 2022, IntegrityMag.com