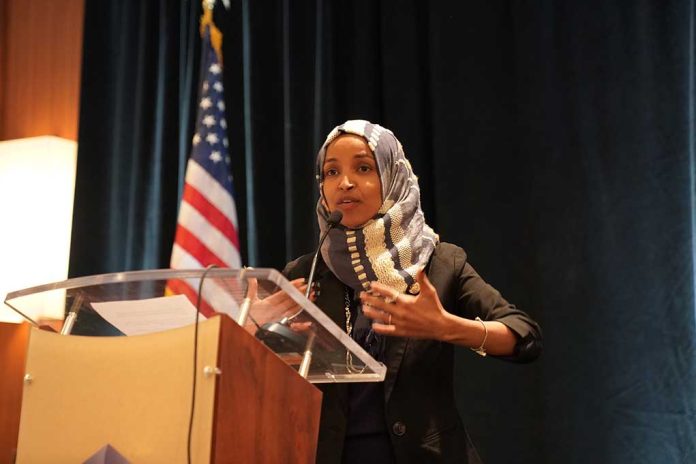 (IntegrityMag.com) – Representative Ilhan Omar (D-MN) is one of the least popular lawmakers among conservatives in Washington, D.C. Her radical stances and aggressive style of politics have inspired a fierce dislike of the left-wing Minnesota rep in many GOP circles. In Omar's latest controversy, she's taking heat after apparently criticizing Christian worship.
On Sunday, April 17, Omar shared a tweet featuring Christians worshiping by singing praise hymns on a commercial flight. The text of her tweet suggested the average American is fine with a public display of Christianity but would take less kindly to such a celebration of the Islamic faith.
I think my family and I should have a prayer session next time I am on a plane. How do you think it will end? pic.twitter.com/5696Erwsl5

— Ilhan Omar (@IlhanMN) April 17, 2022
Conservatives were quick to criticize Omar's tweet, alleging she was discriminating against Christians. Liberal commentators, however, were supportive of what she said. One member of the latter camp was editor-at-large of Philly Magazine, Ernest Owens, who praised Omar by saying a "point was made." Omar took the opportunity to clap back, sharing the below response in which she called her detractors "original snowflakes."
And the original snowflakes had a complete and glorious meltdown 💅 https://t.co/1t6Jq4OIWM

— Ilhan Omar (@IlhanMN) April 18, 2022
This isn't the first time Ilhan Omar has landed herself in hot water over religious commentary. She has repeatedly had to defend herself from anti-Semitism allegations. Still, the Minnesota congresswoman appears adamant she did nothing wrong on this occasion.
What do you think?
Copyright 2022, IntegrityMag.com