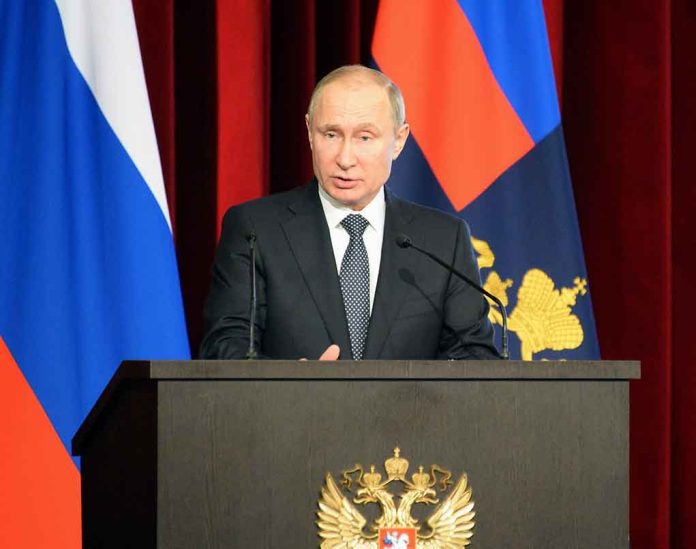 (IntegrityMag.com) – The world's eyes have been on Russia lately as the Eurasian giant is hinting at a possible conflict with neighboring Ukraine. While the Kremlin has insisted it doesn't intend to attack Ukraine, Russia's military presence along its Ukrainian border has increased considerably over recent weeks.
President Joe Biden participated in a video call with Russian President Vladimir Putin to de-escalate tensions on Tuesday, December 7. However, analysts expressed concerns Biden may have been too soft on the Russian leader.
A Gateway Pundit feature about the call suggested the Biden administration was trying to save face earlier in the week by publicly mulling drastic sanctions against Russia if it chooses to invade Ukraine. One such measure might be the removal of Russia from the SWIFT international payment system, a move that would create significant difficulties for merchants and consumers in the country.
American intelligence suggests Russia has stationed around 175,000 troops near the Russia/Ukraine border and Crimea.
VIDEO President Joe Biden tells reporters as he departs the White House that he has warned his Russian counterpart Vladmimir Putin of unprecedented US sanctions if Russia attacks Ukraine pic.twitter.com/ImeBeRLuUw

— AFP News Agency (@AFP) December 8, 2021
One administration official claimed Russia would suffer the harshest sanctions the United States has ever handed out if it invades Ukraine, barring those America imposed on Iran and North Korea.
So, is Joe Biden just posturing by speculating at possible sanctions? Or is he actually creating a serious deterrent?
Copyright 2021, IntegrityMag.com