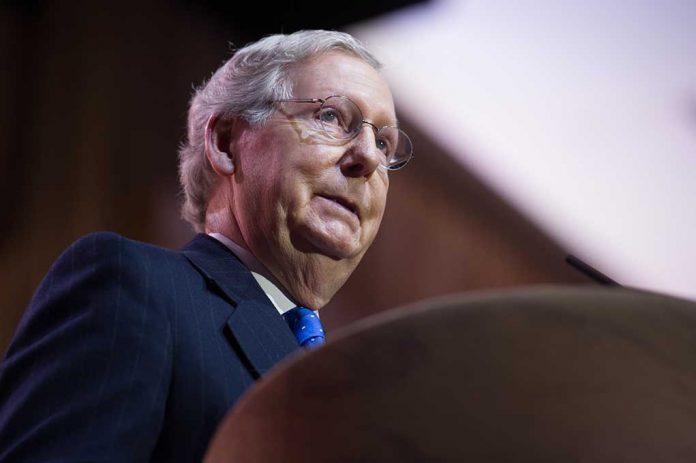 (IntegrityMag.com) – Representatives and Senators are required to read proposed legislation before voting on it as a standard practice. However, at least one bill seems to be getting the bum's rush through the Upper House, seemingly being pushed through before it's ready, angering some lawmakers in the process.
Now, Minority Senate Leader Mitch McConnell (R-KY) has fired a volley at Senate Majority Leader Chuck Schumer (D-NY) for his plan to hold a procedural vote on Wednesday, July 21, in the absence of completed legislation. McConnell's statement comes as Schumer asks the Senate to pass a bipartisan $1.2 trillion infrastructure bill negotiated across the aisle and with the White House. McConnell insists Senators need to read the measure's text before voting for or against it.
Mitch McConnell hits out at Democrats as they try to push through vote on $1.2 trillion infrastructure billhttps://t.co/yA2MmkX5g0

— Daily Mail US (@DailyMail) July 20, 2021
Many Republican lawmakers have stated that they don't want to vote on the bill until they can read it and deliberate. One of the proposal's architects, Sen. Susan Collins (R-ME), told reporters Wednesday's deadline appeared "too ambitious." She stated the goal of producing a quality piece of legislation was more important than meeting an arbitrary deadline.
The infrastructure bill includes $579 billion in new spending, of which $300 billion will be used in transportation. Power, water, and broadband are slated to receive $250 billion in funding under the measure. McConnell is joined by Ohio Republican Senator Rob Portman, who stated that there shouldn't be a deadline on Wednesday, and the legislation should only be brought to a vote when it's ready.
Copyright 2021, IntegrityMag.com